Thrilled to be releasing BHAKTI !
Bhakti is love – loving God, loving your own self, and loving all beings.  – Amma
Although I was brought up in the Greek Orthodox Church, I became a student of a Bhakti yoga guru from India when I was 16. All my life I have practiced yoga, meditation, chanting and devotional singing. For the last 20 years I have also been very active in a small Christian church near my home, singing and praying there. Increasingly I have been drawn to blend the most personally meaningful aspects of Bhakti yoga and Christianity together in a harmony of pure divine love. With devotion, gratitude and joy I offer you this album, BHAKTI .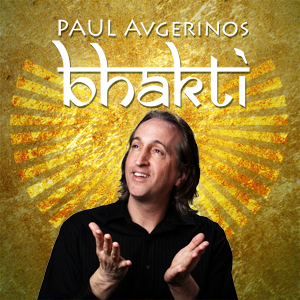 Veteran New Age composer, Paul Avgerinos, blends his consummate skills, not just musically, but also spiritually, to produce "Bhakti". His connection to Christianity and Yoga shine together in a way that neither tradition outshines the other in his devotion, setting a model for the inter-spiritual future we may all embrace one day.  
— Russill Paul, musician, author of The Yoga of Sound & Jesus In The Lotus
Here my most difficult and fussy music critic is examining Bhakti – I'm holding my breath . . . . . . . . . . . He likes it !